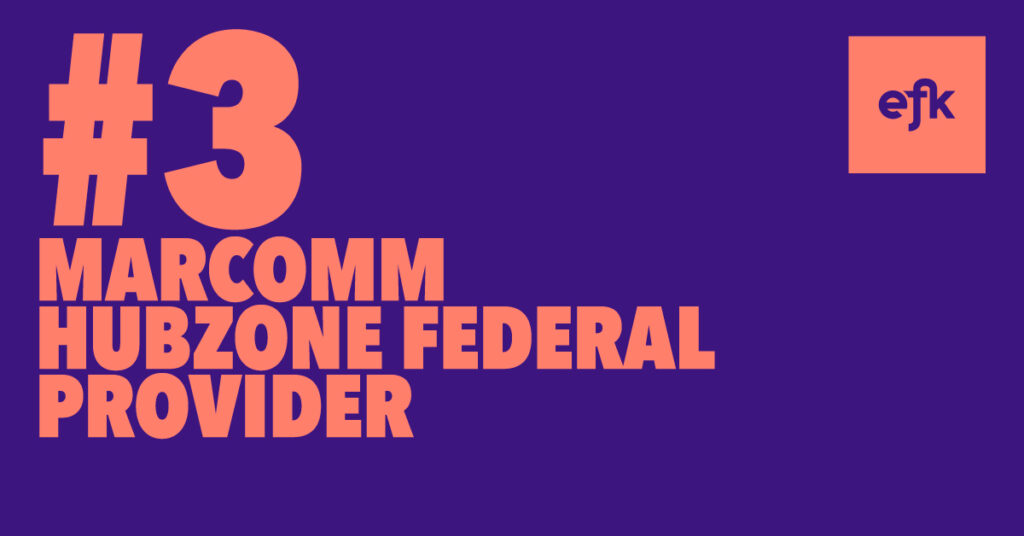 As part of its strong showing in the 2023 GL100, a top industry list of marketing leaders in the federal space, the EFK Group was ranked as #3 nationally for HUBZone-certified marketing and communications firms. HUBZone, a federal program of the U.S. Small Business Administration, fuels small business growth in historically underutilized business zones by bringing at least 3% of federal contract dollars to certified companies each year. EFK experienced growth of 47.31% in prime federal contracts from 2021 to 2022.
Through the HUBZone program, the federal government directs certain contracts to businesses in historically underutilized business zones, and gives preferential consideration to those businesses in full and open competition. When firms are certified by the HUBZone program, these businesses are eligible to compete for the program's set-aside contracts. Certified businesses also get a 10% price evaluation preference in full and open contract competitions, and can still compete for contract awards under other socio-economic programs for which they qualify.
EFK has been a top marketing firm for federal contracts since our first contract in 2019, including work with the Centers for Disease Control & Prevention (CDC), the United States Navy, and the National Science Foundation. Often, we partner with other small businesses that supplement and complement our existing services to meet and exceed client expectations.
"As an urban-based company with team members residing in many of the Northeast's urban centers, EFK is proud to be a prime representative of the HUBZone program and the ideals on which it was developed," said Eleanor Kubacki, President and CEO of EFK. "As a small business ourselves, we look to partner and collaborate with other HUBZone small businesses to further foster the mission of the program and to make an impact on these partners and their home communities."
In both the GL100 and the HubZone category, EFK was the only New Jersey-based firm on both lists. If you are seeking assistance with your marketing and communications goals, please call or email us today!