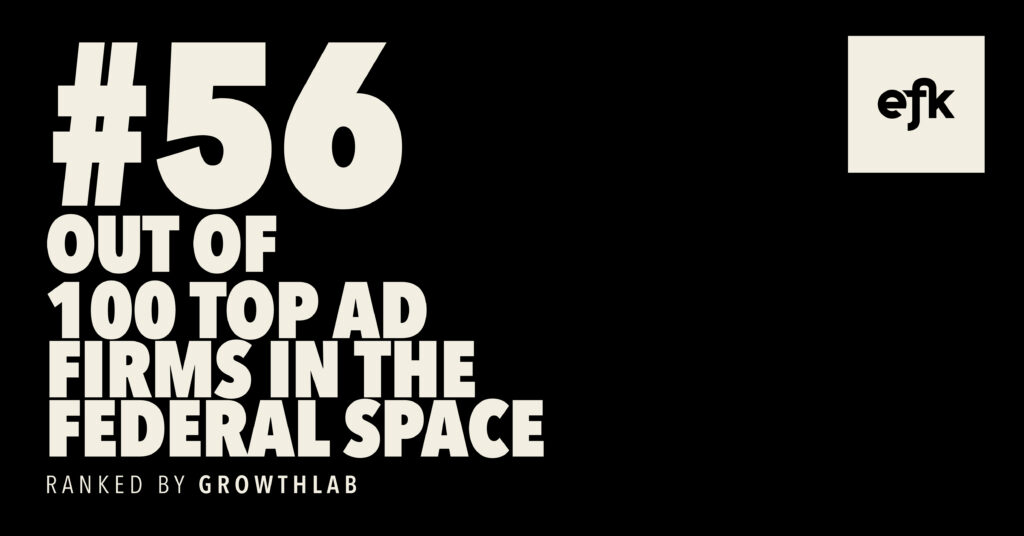 For federal clients, there is no better marketing firm to hire than the EFK Group (EFK). With an experienced team, proven track record, and deep understanding of the federal process, EFK, a woman-owned, HUBZone-certified small business, can help federal-level clients every step of the way – from developing a marketing and communications strategy to executing them flawlessly.
In a historic win for a small HUBZone business, EFK claimed a strong position on the GL100, a top industry list of marketing leaders in the federal space. We ranked 56th out of the top 100, and earned a spot in the Top 3 category leaders for HUBZone-certified companies. We were also the only New Jersey-based marketing firm to be listed. In 2022, the federal government contracted with nearly 600 firms, spending over $2B on marketing and communications services.
"EFK's deep understanding of the federal contracting process allows us to develop creative solutions that help our clients succeed," said Eleanor Kubacki, President and CEO of EFK. "We offer a wide range of marketing and communications services that are essential for the success of federal clientele. Regardless of the need, EFK can tailor a solution that will work for you."
We have been a top marketing firm for federal contracts since our first contract in 2019. Significant contracts with the Centers for Disease Control & Prevention (CDC), the United States Navy, and the National Science Foundation have led to our explosive growth of 47.31% in prime federal contracts from 2021 to 2022. Often, we will partner with other small businesses that supplement and complement our existing services to meet and exceed client expectations.
Our commitment to excellence and dedication to its clients' success sets it apart from other marketing firms in the industry. If you are seeking assistance with your marketing and communications goals, please call or email us today!